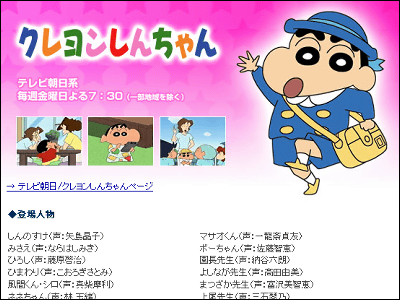 TV animation "Crayon Shin-chan" broadcasting now was not ended and TV Asahi clarified that it was a continuing direction on the 20th this month though the author and [nin] Usui of cartoon "Crayon Shin-chan" encountered the accident in Yamanaka, it died, and it became a topic in not only Japan but also the world.
「クレヨンしんちゃん」番組は継続の方向 テレビ朝日 - MSN産経ニュース

According to the article, president Hiroshi of ..earliness.. [kawa] of TV Asahi seems to have clarified it in the seat of the press conference that had been held today , saying that "It is requested that it be possible to continue though bereaved family's intention was looked and decided".
It criticized, and it seemed to have been said, "Became shape that creators made it up while referring to Original Story" as well as Sazae-san etc. in case of "(Crayon Shin-chan :) It was loved in the world, and a multipronged extension was shown ..president of ..earliness.. [kawa]..".

"Crayon Shin-chan" starts in 1992 broadcasting, and has been broadcast since 19 of Friday:30 now. Because "Doraemon" has been broadcast since 19 o'clock of Friday, the child program frame of one hour is formed to the stand at 19 o'clock of TV Asahi money of a day of the week. Doraemon takes pride, and Crayon Shin-chan is audience rating about 10% and takes pride in never a low, keep the audience rating from 10 to 12% steady popularity.

It is the same as "Doraemon" and national animated cartoon "Sazae-san" in the meaning of continuing even if the original writer dies. Because Mr./Ms. Usui was not positively handling the scenario, the situation to date might not have a big obstacle in keeping making the work either.